On March 24, the TV column "Build a dream in one belt one road in "Chinese world" of CCTV Chinese International's Chinese Channel (CCTV4) reported a story of a Jiangxi businessmen take E-business new mode to Africa, he is Amanbo CEO Mr. Liao Xuhui.
On March 24, the TV column"Build a dream in one belt one road" in"Chinese world" of CCTV Chinese International's Chinese Channel (CCTV4) reported a story of a Jiangxi businessmen take E-business new mode to Africa, he is Amanbo CEO Mr. Liao Xuhui.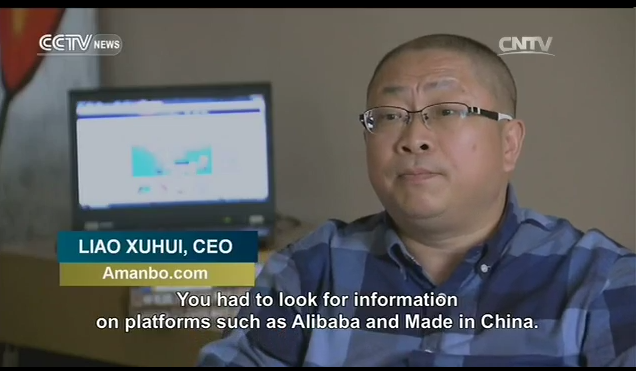 Before the year of 2000, Mr. Liao Xuhui has been engaged in IT business. In 2000, Mr. Liao began to do traditional China-Africa trade by chance. routes. In nine years of traditional China-Africa trade and management process, from Shenzhen to Togo, from West Africa to Central Africa, and then to East Africa, from ordinary foreign trade to brand operation, from to deal with the thieves of Africa to face the threat of African national wars, he was deeply aware of the difficulties of traditional China-Africa trade. In the background of the rise of domestic E-business platform, Mr. Liao had an idea to establish China-Africa E-business platform. In 2009, he set up Shenzhen Right Net tech Co., Ltd., and quickly started a market research for China-Africa E-business platform, recruit talents and technological development.
Through investigation in more than 30 countries in Africa, Mr. Liao found Chinese mature E-business mode is not suitable to be used in Africa because the system prototype is hard to form in Africa. In order to find a solution, Mr. Liao chose to study. In 2011, he studied EMBA program in Peking University Guanghua school. In August, the company officially launched the system development work. After nearly three years of many challenges faced and innovation, finally formed a relatively complete and stable version in 2013. He considered the African network infrastructure is weak, user base is poor and other practical difficulties, decided to take a combination of online and offline promotion way to operate, and immediately set up branches in Africa, most of the time to set up representative offices in 15 countries. However, this system's adaptability and local promotion in Africa do not smooth, Mr. Liao decided to suspend the expansion and continue to in-depth research platform mode. In September 2014, Mr. Liao decided to re-build a new China-Africa business platform according to the African market demand characteristics. So he moved his desk to the Ministry of Development, personally do product director, and work with dozens of young people from the development team! Whole year, he gave up all vacation and recreation, he has full of passion to work day and night. In September 2015, Amanbo E-business platform formally launched, which is a professional E-business platform specially for China-Africa trade.

In order to quickly launch, establish the cross-border transactions credit, and work in concert with online platform, Mr. Liao decided to build the offline showrooms. Currently, it has established operation center and offline showrooms in many African countries, such as Cameroon, Kenya, Egypt, Niger, Togo, Sierra Leone and Cote d'Ivoire. Mr. Liao has established the innovative business OSO (Online + Social + Offline) mode.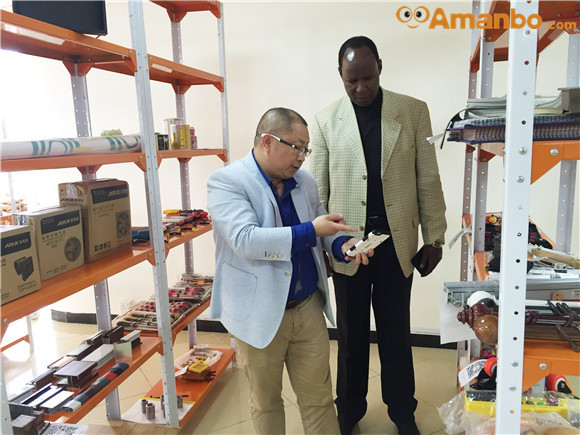 In order to promote the trust between Chinese and African foreign traders, facilitate to make deals, Mr. Liao created "four modernizations " (network, branding, localization, precision) strategy. Under the support of Amanbo network platform, combining the offline showrooms and local teams in Africa, using the idea of brand development to carry out precision marketing. It builds a convenient bridge for the import and export traders of China and Africa, promotes the international development of Chinese national brand, to create the E-business platform ecological system that take China-Africa trade as core.

With the background of China proposed "One Belt One Road" strategy and the FOCAC summit successfully held in Johannesburg, the mystery of Africa, it is a good time for China-Africa cooperation and development. Mr. Liao and Amanbo caused the attention of many media, including CCTV, Xinhua News Agency, Shenzhen TV KBS and K24.
Amanbo as a B2B platform that meets the needs of Africa and rapid growth, as of March 2016, the registered users of Amanbo has nearly forty thousand, and also at a speed of more than 200 a day to grow rapidly. Users trading habits are being formed. The merchants, who got benefits at the pre time all praise Amanbo, they think Amanbo is a professional, innovative and free open shops platform, which will change the traditional foreign trade mode and E-business mode, brings new profit growth point for them!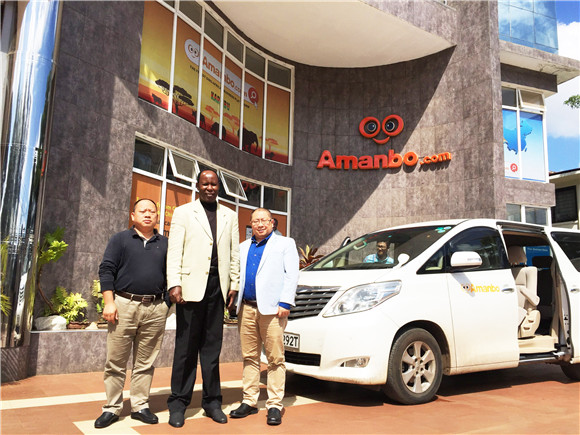 Amanbo always adhere to free open shops, no trade no charge, no annual fee, and not to sell the rankings, it subverts the mode and idea of traditional B2B E-business platform! It has launched '123' Plan for into Africa, TP Service, AMP plan and other services, to build an increasingly comprehensive service system. With the rapid growth of platform users and fast construction of overseas branches and warehouses, Amanbo is providing more and more convenience for China- Africa traders.
"Insist on China and Africa E-business for many years, despite there are many challenges and difficulties, we are always on the way, never stop! In the context of President Xi advocated "One Belt One Road" and the China-Africa comprehensive strategic cooperation, the good time of China-Africa cooperation has come! We hope Amanbo can be famous in the international for the Chinese national brand and be the bridge for the China-Africa cooperation in capacity!" This is the Mr. Liao's wishes, also called "African emotion", he said, these wishes are not very hard to understand, the people who had stay in Africa more than five years all can understand.

Mr. Liao Xuhui has insisted on seven years for China-Africa E-business! He believes such insistence, combined with professional team and correct leadership, Amanbo must be able to bring the new ideas and modes for China-Africa cooperation and E-business, the majority of internet users also can get benefits and rewards!